Posted on August 25, 2013
If you are using a desktop with a larger display, or are just too use to having a Desktop inside of Windows, there is now an easy way to boot right into the Desktop screen instead of your Start Screen. The Start Screen is the "Tile Page" or the "Metro Page". It goes by a lot of various names. To best describe it, it's the screen with the large Box Icons (called Tiles).
If you are already on the Desktop and can't figure out how to get to the Start Menu, on the lower left of the screen, move your mouse there and a window will appear to go back to "Start". In windows 8.1 they added the start button back though to stop the confusion.
Just to note, I am unsure if this works with Windows 8, this is for Windows 8.1, but please do try it on Windows 8 and comment below if it was successful.
Boot to Desktop Steps
Right Click the taskbar and go to "Properties"
On the dialog, go to the "Navigation" tab.
Under "Start Screen", tick the box that says "Go to the desktop instead of Start when I sign in."
Apply / OK changes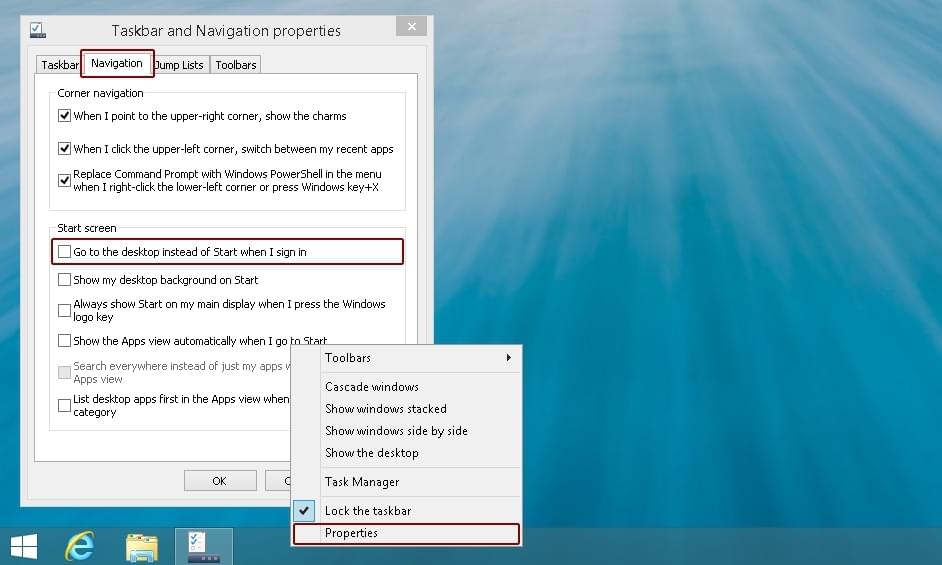 And that is all there is. Sadly, there is no option to have a "Normal" start menu yet, but I suggest you try Right Clicking on the new Windows logo in 8.1. There are some nice buttons, such as Shutdown, Control Panel, Task Manager, File Explorer and more.